MEDIA RELEASE
As of Friday, January 11, 2019, the following individuals are wanted by the Hawaii Police Department because of outstanding warrants: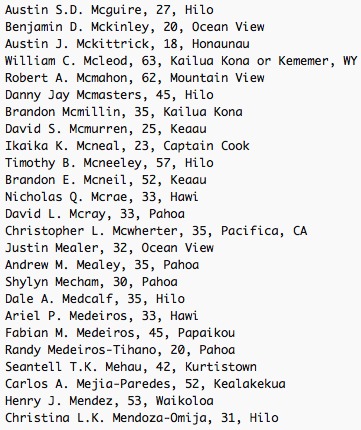 This is the official list from the Hawaii County Police Department
Police ask that anyone who knows the whereabouts of a person on this list call the Police Department's non-emergency line at 935-3311. Tipsters who prefer to remain anonymous may call Crime Stoppers at 961-8300 and may be eligible for a reward of up to $1,000. Crime Stoppers is a volunteer program run by ordinary citizens who want to keep their community safe. Crime Stoppers doesn't record calls or subscribe to caller ID. All Crime Stoppers information is kept confidential.
Persons…
Original published: 2019-01-11 20:39:11 Read the full Hawaii News here
---